For manufacturers of the wall putty industry, the yearly industry's summit and forum is usually a time in which all companies look forward to.
One outstanding reason why relevant stakeholders from different establishments within the industry always look forward to this annual event is due to the endless opportunities which it creates.
Top on the list of such opportunity is the fact that the summit creates a platform where technological trends and innovative technology and idea within the industry can be brought to the table for collaboration between sister industries.
For this reason, the 3rd National Putty Mortar Industry Summit Forum held at Wuhu from 31st October to 2nd November, 2020 was another great time we at Cemotech were glad to see come true with full participation.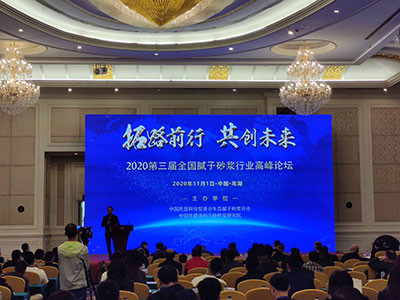 This, we saw as an opportunity for issues regarded the standardized manufacture of CALCIUM FORMATE/SUPERPLASTICIZER/REDISPERSIBLE POLYMER POWER/DEFOAMER/STARCH ETHER/RETARDER and related additives will be discussed.
Also present during the National Putty Mortar Summit Forum were mortar upstream companies, downstream enterprise, putty enterprise as well as other related industries within the putty mortar industry.
Matters Discussed during the Summit Forum
During the summit, a keen consideration was given to the wind of change that has blown all over the world as a result of the impact of the COVID-19 pandemic in the year 2020. Just like other nations of the world, economic activities were greatly affected and hampered due to the pandemic, and this led to a drop in the GDP of many nations.
Thankfully, for us in China, the economy is seen to gradually pick up from the cruel impact of the pandemic, especially in terms of both domestic and foreign economic returns. And for us in the putty and mortar industry, it can also be said that we are really getting back on our feet as things gradually get back in shape.
However, when considering the cost structure of most companies involved in the construction of accessories, it was observed that the purchase of materials needed for production hasn't been standardized to be the same everywhere. For this reason, a lot of problems have been traced to the mode of management, pressure from tax payment, cost of labour and other areas of challenges.
For this reason, top on the list of issues discussed during the 3rd National Wall Putty Mortar Industry Summit Forum was ways on how to upgrade and transform the putty mortar industry. This issue was important because the congestion of manufacturers in the industry has led to a fall in its development with lots of challenges starring at it.
Also considered at the forum was ways on how both the upstream and downstream sectors of the industry will collaborate to give birth to a new and better model of chain cooperation in the industry.
With this, ways such as centralized procurement strategy and new technology will be adopted to enhance management as well as improve the efficiency of both technological and scientific achievements and transformation in the industry.
Finally, relevant stakeholders in sister companies within the putty mortar industry were advised to participate actively in the establishment of a lively community within the putty mortar industry.
About Cemotech New Materials
Cemotech is a chemical company that developing, producing and marketing 
chemical additives
. With its products 
Vinabond® Redispersible Polymer Powder, Ultraplast® Superplasticizer, Quickset® Calcium Formate, Gypstar® Gypsum Retarder and Stargel® Modified Starch, Powder Defoamer
. Cemotech is supplying many customers in construction industry all over the world.
Cemotech is ISO 9001: 2008 certified and had implemented a strong quality control system, thus make our products more stable and consistent in quality. With rich experiences in this industry, Cemotech understand better our customers' needs and we're selling across Asia, Middle east, Africa and Europe.
Contact Cemotech for the best additives for dry mix mortar products
Cemotech is supplying several Redispersible polymer powders specially designed based on the requirements of ceramic tile adhesive applications, such as Vinabond N511 which offers very good rigid and bond strength, Vinabond N516, offers good flexibility, bond strength and water resistance and other types like water proof grade Vinabond H518 etc.